Learn About the One80 Physical Therapy Team
Meet our team of elite professionals.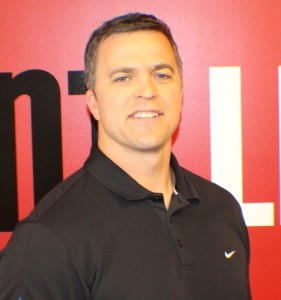 Dr. Rhett Polka PT, DPT, OCS, CSCS 
Loveland native, Dr. Polka graduated from Loveland High and earned degrees at the University of Northern Colorado with a BS in Kinesiology and Slippery Rock University where he graduated as a Doctor of Physical Therapy. From a young age, Dr. Polka was an athlete, sparking his interest for human performance. After rehabilitating a football injury in junior high, he knew he wanted to be a physical therapist.
While developing the The One80 System, early in his career Dr. Polka earned his Certified Strength and Conditioning Specialist (CSCS) designation from the National Strength and Conditioning Association and became Board Certified in Orthopedics (OCS) from the American Physical Therapy Association.
As a former high school and collegiate athlete, Dr. Polka remains involved with sports by working with a variety of patients including little leaguers, high school All Americans, Division I standouts, and professional athletes. He has also had the privilege of being part of the Loveland High Football Sports Medicine team for six seasons.
Outside the clinic, Dr. Polka spends as much time as possible with his wife and boys. Dr. Polka's favorite activities are traveling with his family and watching his kids play football, lacrosse and snow board.
– B.S. Kinesiology, University of Northern Colorado
– Doctor of Physical Therapy (DPT), Slippery Rock University
– Board Certified Orthopedic Specialist (OCS)
– Certified Strength and Conditioning Specialist (CSCS)
Dr. Nikhil Patel, PT, DPT, CSCE 
After being introduced to the One80 System, Dr. Patel was intrigued by the immediate and lasting improvements in each patient's functional ability. A treatment system that focuses on the underlying cause of dysfunction rather than symptom based treatment is what set One80 Physical Therapy apart from traditional physical therapy making Dr. Patel eager to learn this innovative approach.
Growing up in Tampa, Dr. Patel attended the University of Florida where he earned his B.S. in Applied Physiology and Kinesiology. His passion for physical therapy began when he saw the life changing impact it can have as he was volunteering for an organization to integrate children with special needs into the world of sports. As a former athlete and personal trainer, Dr. Patel has always had an interest for athletic performance optimization and injury prevention. This led him to attend the University of Miami where he earned is Doctorate of Physical Therapy degree.
Dr. Patel moved to Colorado because of his love for the outdoors. In his free time he enjoys rock climbing, hiking, camping, skiing and playing soccer.   
– B.S. Applied Physiology and Kinesiology, University of Florida
– Doctor of Physical Therapy (DPT), University of Miami
– Certified Strength and Conditioning Specialist (CSCS)
Dr. Matt Collar  PT, DPT
In 2014, Dr. Collar spent eight weeks at One80 Physical Therapy on his final clinical rotation. During that time, he learned invaluable skills that he continued to implement while working in Little Rock, Arkansas. While there, he was able to get results with his patients that left conventional therapists scratching their heads. In 2019, Dr. Collar was able to fulfill two personal goals, move to Colorado, and work at One80 Physical Therapy. 
Dr. Collar received his bachelor's degree from the University of Arkansas at Little Rock in 2009 and his Doctorate of Physical Therapy from Harding University in 2014. When not working, he enjoys spending time with his wife and daughter, as well as hiking, camping, and hunting. 
– B.A. Health and Exercise Science, University of Arkansas at Little Rock
– Doctor of Physical Therapy (DPT), Harding University
Dr. Aaron Shaver PT, DPT
While planning his post graduate career, Dr. Shaver discovered One80 Physical Therapy. He immediately appreciated the patient focused, manual therapy, science based evaluation and treatment methods. He took the opportunity at One80 in order to expand his ability to achieve the highest possible functional and performance based outcomes for his patients.  
A native of Boulder, Dr. Shaver grew up playing lacrosse, swimming and skiing.  While completing his undergraduate degree at Trinity University, he swam competitively at the collegiate level.  His experiences navigating a shoulder injury in college inspired him to pursue a career as a physical therapist.  Dr. Shaver earned his Doctor of Physical Therapy degree from Washington University in St. Louis. Now that he is back home, he continues to be active while living the "Colorado lifestyle". 
– B.A. English and History, Trinity University
– Doctor of Physical Therapy (DPT), Washington University in St. Louis